Military Relocation FAQ's
---
FREQUENTLY ASKED QUESTIONS ABOUT MILITARY RELOCATION & HOMEBUYING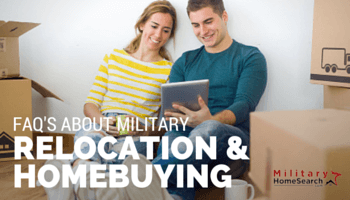 When a military family finds out they're being relocated to Oahu Hawaii, it can feel like the whole world is turned upside down. Questions begin to circle in one's mind like:
What's it like where you're going?
How soon do you have to move?
Where will you live?
It's quite likely you've done this before, and chances are you'll have to do it again. To put your mind at ease, we've put together some of the most frequently asked questions that homebuyers face when their family is being relocated to another city.
SHOULD I BUY OR RENT A HOME?
Ultimately, it depends on how long you'll be stationed in Oahu Hawaii, and if you can live on or off the base.
If you expect to be here for a few years, it can certainly be a good financial choice to buy a home. Rental prices on Oahu Hawaii are at an all-time high, so a mortgage payment can actually be quite a bit lower than the average monthly rent and you'll be building equity in the process. Find out what your housing allowance is and if you're approved for a VA loan with Edge Home Finance and a Military Home Search buyer specialist will help you determine what you can afford and what neighborhoods would work best for your situation.
Before you make your decision, check with the base's housing list to see if there are any delays. Rank and availability can sometimes cause base housing waitlists to accumulate, which means it could be several months before your family can move in.
HOW LONG DOES IT USUALLY TAKE TO BUY A HOME?
It's difficult to put a definitive number on the amount of days it takes to buy a home because every situation is different. With that said, you can typically view around three to five properties over the span of a few days, bearing in mind that these homes have been carefully chosen by your agent based on your wants and needs.
One of the biggest things that can save time during the buying process is to be pre-approved for a mortgage before you go shopping for a home. This ensures that if you find a property that matches your needs and budget, you can put in an offer as soon as possible. Far too often, a buyer misses their dream home because they're not pre-approved and another buyer is.
SHOULD I BUY A HOME "SIGHT UNSEEN"?
While touring a home in person is always going to be the best option, some buyers don't have the time or money to fly back and forth across the country to house hunt.
Buying a home sight-unseen isn't ideal, but sometimes it's unavoidable. To make the process as easy as possible, talk to Edge Home Finance mortgage broker on Oahu and work with a RE/MAX ALOHA HOMES Military Home Search real estate agent, as they can do much of the legwork for you. Search online to find the latest available homes and ask for additional pictures and videos. Then, consult with your real estate agent for their opinion, and they'll tell you everything you should know and arrange a home inspection if necessary.
HOW LONG BEFORE I CAN MOVE INTO MY HOME?
This depends on whether or not the seller has already purchased and moved into another home.
If you're buying a new construction home, it can take a matter of weeks, whereas an occupied home can take up to 90 days. Your real estate agent will be able to help you negotiate terms that fit your needs during the buying process.
WILL MY SIGNIFICANT OTHER BE ABLE TO FIND WORK IN OAHU HAWAII?
Oahu Hawaii has a strong and diverse economy with endless employment opportunities. The bases are one of the city's biggest sources of employment for active-duty members and civilians alike. There are also plenty of jobs available in hospitality, retail, technology, aerospace, production, education, and tourism.
ARE THERE ANY PERKS TO LIVING IN OAHU HAWAII?
Absolutely! Oahu Hawaii is a vibrant city with endless things to do. For active-duty members and veterans, the state of Hawaii offers housing benefits, tax exemptions, hunting and fishing privileges, and many other benefits.